24 Aug

Being around: Reflections from the 1st six months of being a dad.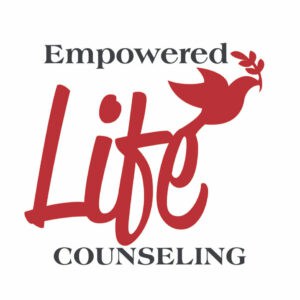 Being around:
Reflections from the 1st six months of being a dad.
By Jeremy "Ferg" Ferguson
December. A month that was already jam-packed with events and parties and gift wrapping and stress was just about to get more jam-packed when my wife and I came home from church knowing that we were about to go to the hospital that night, at midnight, the most evil time to have to go to the hospital, for the induction of the birth our little girl. We tried doing the responsible thing… getting a big lunch and trying to rest the whole day to be ready for whatever the labor process was like. But like most nights (or, in this case, days) before a big event, sleep evaded us. I remember rolling over, looking at my gorgeous wife, both of us with our eyes wide open, smiling at each other and saying, "I wish we could just get this over with." As many of you know, the waiting period before something nerve-racking is way more nerve-wracking than what should rack your nerves. Clearly, I was a mess. And that was just power for the course. Over the next two weeks, we would be in and out of the NICU (neonatal intensive care unit) monitoring Lulu's heart and bilirubin levels hoping for lots of good news and lots of newborn poops. (A tale for another time)
And the wild ride of parenthood started.  
And what a wild ride it has been…with many more wild rides to follow, I am sure. The Little Sweets came home in time for a wonderful holiday break with all the cute pictures that come with that type of thing. And I started learning…a lot… 
1: I don't have to know what I am doing.
I don't know what the heck I am doing half the time. As I say with many of my clients, "Let's just muddle through this together." That is totally what the last six months have been like for me and my wife. We have discussions. We have plans. We have been communicating well during this whole time. (Chels, feel free to correct me) And regardless of our best-laid plans, our girly has some new need that has not been discovered. 
"Wait…what is this? What do you need right now, girl?" And since she cannot eloquently describe her needs, we are left to guess…left to guess and sift through all the unsolicited advice unhelpfully piled upon us regularly. (I'm not bitter. YOU'RE bitter)
One day, one thing works; the other day, it's another. What a good metaphor for life. Sometimes you have to sit with the mess and go with what works. All I have to do is ensure my kiddo is alive and knows she is safe and loved by her daddy (both heavenly and earthly). If I focus on those things, she will be okay. Most kids do not need a parent who knows what they are doing…they need a present, loving parent. My daughter needs her dad to be around even if he is nervous about messing up. I am confident that as long as I keep showing up, we can fix any mistakes I make along the way…and trust me…I will make a ton…all ready have… a lot…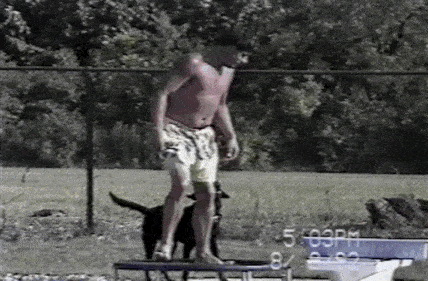 2: TV is boring.  
Ever since the Tater Tot arrived, watching TV has become boring. I am sure that this is partially my personality…and somewhat because all the new shows have terrible writing and are just uninteresting…But more than those things, Lu is way more interesting to me. I get to watch her, and her mom interact, and I get to join in on their fun and even start some of my own. There is a difference between consuming entertainment and getting to participate in interaction with your family. We have made it our goal not to let her watch the screen for several years for this very reason. She looks around the room and sees all the wonder of the world. All the sounds, textures, movements, scents, and how everything tastes as she inevitably puts it into her mouth is reality's gift to us. And I get to experience all of those things through her eyes again. Even as I write this, she is on the floor, grabbing her feet and hitting the swinging play mirror hanging over her floor mat with a fascinated smile. I would miss out on that if I were locked into my video games or the latest streaming "something." Nah, I'm good. This is too much fun to miss. And I don't want to. I want my daughter to remember the days we randomly played on the floor or when we made pillow and blanket forts. That practice starts now while she still has all those brain pathways being trained to look at my face when I talk to her…rather than the people on the TV. And come on…my face is not a bad face to look at… it's a GREAT face…most of the time…see?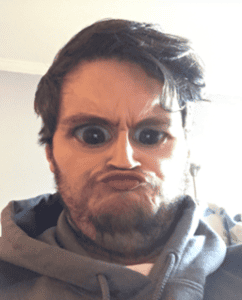 3: Everything changes…all the time…always.
I don't like using "always" as a word in general. But in this case, it is true. EVERYTHING is changing and is NEVER the same. Every moment that passes, something changes or grows. I am grieving the loss of my little newborn. But I am celebrating the arrival of my little infant, all the while dreading the toddler season that is soon coming upon us. She has changed so much already. Her little smiles light up the room. Just recently, laughter broke into the equation. (I got to be present for her first laugh…and I subsequently cried with the joy expected from a sentimental such as myself) I am noticing how wonderful change is AND how hard it is. Just the other day, I ran into a kid that I initially met when he was in middle school. 
Now he is off to college with a "full-ride" playing some sport. Everything changes. Everyone changes all the time. And now my daughter is making that more and more a reality to me. Her face is growing into her own person. She is starting to practice using her voice and sometimes even singing after her mom and I finish our silly songs. Change is happening. It's a necessary trial. She needs to change. She needs to grow. She has a life to live here.   
Thus, I need to change. 
I need to grow. I have a life to live here as well. It makes no sense to try to ignore that things are changing. 
I have the privilege of grieving the change I see while celebrating it—all the more reason for me to be as present as I can be. I want my little one to know I was around for the changes and to help her deal with all the life changes that come with being a human. To support her and ensure she knows I am around to listen intently and provide what I can. And for the things I can't offer, I get to walk alongside her, pray with her, and teach her how to trust the Lord in all of it. I want to teach her those things. Not have someone else teach her because I was not around.   
4: Life is not about me.
This brings me to the last reflection I have today. Life is not about me. It never has been, and it never will be. I am not THE special. (That honor belongs to Jesus) Of course, I am one of a kind. Of course, I should be valued. But I am not the end all be all. There is something bigger out there…a greater purpose to my living than just me having a good time. That is why my presence is so essential…especially as a dad. There are generations of Fergs that get to come after me that I get to influence with my being around…AND ENGAGED with my daughter (and future kiddos as well). 
When I saw my little one for the first time, I remember seeing her face move…I melted. It hit me at that moment, "It's no longer about you." It never really was. No one will remember me in 1000 years. But I can influence the generations to come with my presence and by showing my kids how much they are loved and that there is something greater to live for than themselves. (Again, Jesus)  
It is an honor to be a Dad. 
It's the 3rd highest honor I have. (One being a part of the family of God and two being married to my wifey) It is easy to get so busy that we miss the little sacred moments that influence our kids. I am glad I get to start early with practicing being present. From the short nights in the NICU to the long prayers waiting to hear that her heart was healthy and that no surgery was needed, to the pacing in the bedroom soothing her to sleep, to Tuesday afternoon stroller runs (I call those Lu'sdays). I am proud to be her dad. To be with her through as much of the journey as the Lord blesses me with. My invitation is to ask you where your attention is. Are you missing the sacred moments with your kids? Moments when you can put down the video game controller, turn off the ball game, set aside the TikTok, and engage with them where they are… because where they are is ever-changing and growing…they need you to be around for the ride.  
I am praying for you and your kiddos.
-Ferg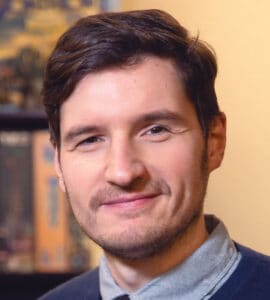 Jeremy, also known as "Ferg," is a Licensed Marriage and Family Therapist with a master's degree in Christian Counseling – Marriage and Family Therapy from Oral Roberts University. His skills as a family therapist are versatile and allow him to work with all ages of the family including children, adolescents, and their parents. Ferg works with his clients individually, as a family, or with couples. Ferg is passionate about helping his clients grow and experience emotional healing and freedom through his relational personality and style of therapy.  The safe environment he creates allows his clients to practice giving their feelings and needs a voice while they are simultaneously challenged with loving "pushback" to develop a deeper connection and create a more desired life experience.